It's the year 2223, and the human settlement on Mars has finally declared its independence from Earth. You have been chosen to lead the people of Mars into a new and brighter future. The decisions you make now will shape your planet's history for generations to come. No pressure…
Red Planet: Revolution is an award-nominated game-theatre show from critically acclaimed innovators Upstart Theatre. Fun and thought-provoking, this interactive experience gives you the chance to build your very own future society. Alongside your fellow audience members, you'll face down political opponents and deal with interplanetary threats, as you lead the people of Mars into a better tomorrow.
★★★★ "A unique and exciting experience"
The Spy in the Stalls
"A perfect example of exciting, divisive theatre today"
London Theatre Reviews
Tom Mansfield
Director/performer & Co-creator
Chloe Mashiter
Co-creator & Performer
Rianna Dearden
Co-creator & Narrative Designer
Lizzie Wiggs
Performer (Macedonia)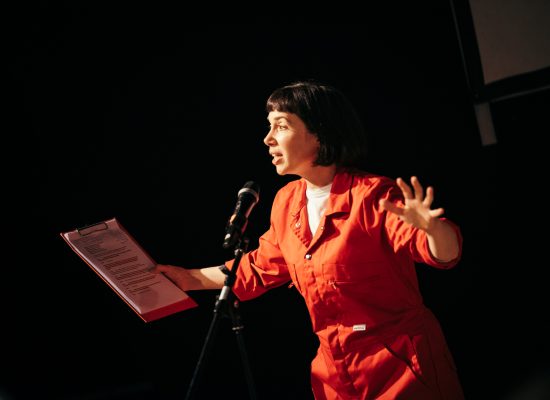 Photos: Ali Wright, Chiara Mac Call, Stefan Samandov / MOT Festival Skopje.