Jennifer Jackson, Simon Jones and Tom Hughes | Friday 7:30pm, Saturday 7:30pm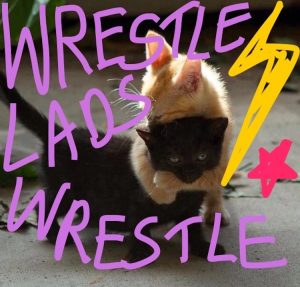 Jennifer Jackson used to be the under 50kg AJA British Judo champion. Simon Carroll-Jones is extremely competitive. Tom Hughes is a wrestling fan.
THEY'VE RECRUITED THE LARGEST GIRL GANG THAT SHOREDITCH HAS EVER SEEN.
Inspired by Eve professional wrestling, Buffy the Vampire Slayer, Mixed Martial Arts, Judo, dance and clown. We will play fight for you. So you don't have to.
WRESTLELADSWRESTLE explores personal risk through the forgotten joy of play fight, the rediscovery of childhood heroes, the re-enactment of school fights, famous fights, and the fight the audience member had when they were 13 years old. When was the last time you rolled around on the floor with another person? When did we stop wrestling? And what is so interesting about women fighting? Get down to your pants lads and let's f*@£ing wrestle for freedom.