Marcelo dos Santos & Natasha Nixon | Friday 8:45pm, Saturday 6pm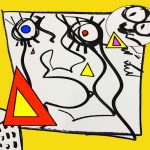 In an age of information overload and non-stop media coverage of non-stop international tragedies, Trigger Warning is a jet-black comedy exploring the politics of 'trigger warnings'. Can we protect audiences from real life? Should we?
Trigger Warning is a collaboration between the writer Marcelo Dos Santos and theatre maker/director Natasha Nixon and operates somewhere weird and fun between live art, cabaret, stand up and theatre.
WARNING:
During this performance you may find you feel things up to and including, boredom, frustration, agony, ecstasy, arousal, wonder at the power of imagination, despair at the human condition, a sense of frustration at yourself, others, the chairs, the confined space, the dark, the strange way the person sitting next to you breathes, you may want them to die, you may want to die, you may die during the performance, you certainly will die at some point.
You have been warned…
Marcelo Dos Santos is an award-winning writer based in London. Credits include Lionboy for Complicite. He is currently on attachment at the Bush Theatre. Natasha Nixon is a theatre director and performance practitioner based in London and Berlin. She trained at the National Theatre and at LISPA.