A tale of lust and betrayal in the City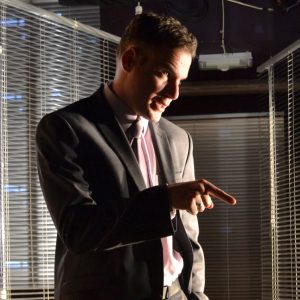 THE MADDENING RAIN
By Nicholas Pierpan
Directed by Matthew Dunster
Performed by Felix Scott
Designed by Alison McDowall
Lighting design by Emma Chapman
Sound design by David Sharrock
"The City's a constantly wide open field, or a wish, a pit, a running towards something, a crime."
Torn between Chilean lithium deals and finding his first love once again, one man struggles to find his place in the tough worlds of love and finance. When he realises the sky's the limit, he finds his only problems are the people in his way.
Darbourne Luff and Upstart presented The Maddening Rain on tour throughout England, and at 59E59 Theaters in New York City as part of Brits Off Broadway, in 2011.
The Maddening Rain is available to buy from Samuel French.