Two Pale Ladies | Friday 10pm, Saturday 7:30pm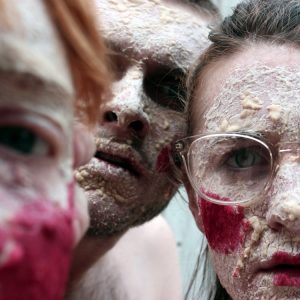 How to Cope with Embarrassment is almost a cabaret.  It is also almost a comedy, and almost a politically and socially engaged performance piece that explores a history of societal blackmail and emotional pressures. But probably it is just a series of questions that we don't have answers  to.
The Two Pale Ladies and their too Pale Mate have teamed up to question the big stuff; who are we, what are we, what are we doing here, where do we go once we're done, how will we ever know if we're done, will we ever be done, are we done, is this being done, and how the hell do you cope with embarrassment?
The Two Pale Ladies create material about people,  for people  We want to explore the behaviours and experiences we share and those that we keep secret  Everything is funny if you can laugh at it and so I guess that's what we're trying to do.
Featured artists:
Clemency-Tate Thorburn
Lucy Bond
Benedict Hudson