Rebecca Peyton & Rebecca Hill | Friday 10pm, Saturday 4:30pm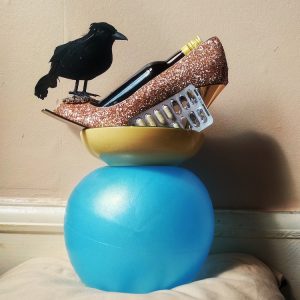 "Ever felt the decisions which led you to this date/relationship/marriage, were taken by someone who hated you? Then Nina Sebastian, Love Life Coach, may be the woman for you. Start taking your own decisions, making your own plans, failing to attain your own goals!"
Nina has years of experience in love, as a youthful heart-breaker, a happy wife, and now as a divorcee, struggling to make sense of how on earth her more-flawed-in-retrospect husband could leave for her Karlene, their – admittedly brilliant – cleaner.
Nina is always bright and cheery for her clients, working through their issues, keeping her problems locked in the strong-room of her mind, where they belong, right? Yes, she has some struggles, but who set the success bar so high anyway? Isn't lying in bed fully-clothed watching the West Wing eating cereal out of the box just a hobby like rock climbing or needlepoint?
An actor and writer, Rebecca Peyton has performed her first one-woman show, Sometimes I Laugh Like My Sister, 110 times, both in the UK and abroad. Award-winning Rebecca Hill's directorial work includes Iphigenia (Gate Theatre); Lysistrata (Almeida Theatre); and Travesti (Pleasance Theatre) which won a Fringe First Award at the 2014 Edinburgh Festival.